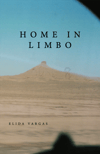 Home in Limbo is a series of poems about the limbo that is being a first generation immigrant. In it the author explores the ways this limbo presents in her cultural expression as experienced following her first visit to her family home in Mexico. Each poem is a loving portrayal of the ways in which one belongs, just as much as it is about the ways in which one doesn't, depicted via the vibrant sights, smells and saliva-inducing senses of the city of Aguascalientes, Mexico.
Photography was taken by the author in Aguascalientes, Mexico on 35mm film.
Printed at a small London printing studio on silk stock.
--
To celebrate the arrival of the author's second book, use the code 'nothings' at check out to receive 10% off your order of Home in Limbo when purchasing a copy of Nothings.
Nothings will be available after 23.06.23 9pm GMT